Wishing Everyone a Healthy and Happy New Year
Happy New Year! We hope you had a great 2016 and that 2017 will be even better!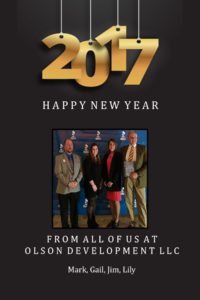 Overall, 2016 was a great year for Olson Development. We completed building projects that included challenging obstacles, and started new projects that we look forward to working on in the new year. We also won the Better Business Bureau 2016 Business/Consumer Education Award. All of these events and accomplishments make 2016 a memorable year.
Olson Development hopes 2017 brings success, happiness, and good health to everyone!
For more information about Olson Development LLC, give us a call at (203) 972-7722, or visit us at www.olsondevelopmentllc.com.