Rohl Faucets in Olson Development Homes
We trust Rohl's easy to use modern faucets and install them into our custom homes. Rolh products come in many finish colors, like polished nickel, polished chrome, and satin nickel. There are also many styles that fit into any kitchen or bathroom.
Here is one of our contemporary luxury homes with Rohl Pro Pull Down in a polished nickel finish. Could you see this in your home? If yes, call Olson Development and we can help you create a room you want.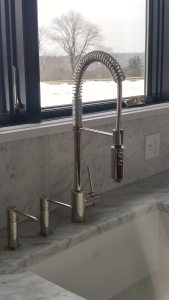 For more information about Olson Development LLC give us a call at (203) 972-7722, or visit us at www.olsondevelopmentllc.com.