Farm Sinks are Here to Stay
With over 100 years of experience, we trust Shaws of Darwen farm sinks to add a touch of elegance to your kitchen. With many different styles, we are sure they will fit into your custom home. If you want this added to your home, Olson Development can help and get exactly what you want.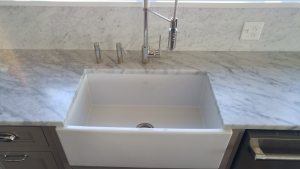 This style of sink is timeless and is perfect for any kitchen, whether it is contemporary or traditional. The photographs show two sinks, one small and one larger.
For more information about Olson Development LLC give us a call at (203) 972-7722, or visit us at www.olsondevelopmentllc.com.