Nikka's Barn is Finally Complete and She is Ready to Move in
Nikka's barn is finally finished and Nikka and her friend have moved in! The whole interior is covered with white timber wood with custom stalls made just for the horses. Their new home includes a large wash stall with the walls covered to match the exterior of the barn. We will share more photos soon!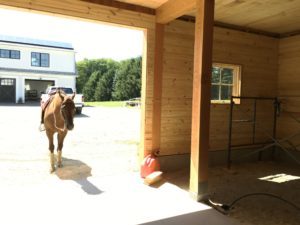 Shown above is the previous photo of Nikka waiting for the barn to be complete.
The view this previous post go to olsondevelopmentllc.com.
Need help building a home for your animals? Olson Development can help you with all your building needs.
For more information about Olson Development LLC, give us a call at (203) 972-7722, or visit us at www.olsondevelopmentllc.com.